The weather was perfect on Saturday for the 13th annual Dr. Kim Armstrong Turkey Trot that was held in Pembroke. More than 300 participants came out to either walk or run along a 5km or 10km stretch of route that wound its way through the city. Money raised through donations will go towards upgrading the in-patient surgical floor and orthopedic program at the Pembroke Regional Hospital. It's expected that the project will end up costing about 11.5 million dollars.
---
Kim Armstrong began running at Champlain High School when she joined the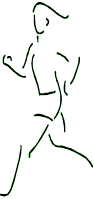 Cross Country team in Grade 9, and never stopped.  She was a person who loved to run; it was one of her strongest passions and it took her to many interesting places across North America.  Since inception in 2005, the Turkey Trot has raised over $106,000 in support of bursaries and hospital programs. The funds raised from this year's run will support ongoing advancements at the Pembroke Regional Hospital.  Thank you for your participation, for contributing to our local health care, and for keeping Kim's spirit alive and running!